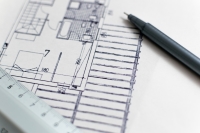 THE HOME INSPECTION PROCESS
The home inspector will work with all parties to determine a time and day to perform the home inspection as well as a time frame to set radon machines. The inspector will inspect the home, and if requested, will meet you at the home at the conclusion to conduct an on site walk through and evaluation with you. The inspector will inspect the major systems and components of your home including
Structural components
Exterior
Roof condition and installation
Attic, basement, and crawlspace
Plumbing and plumbing fixtures
Electrical components
Interior
Insulation and ventilation
Fireplaces and solid fuel burning appliances
Foundation
Deck structures
The inspector will also show you the gas, water, and electrical shutoffs for the home so that you can access them during an emergency.
Most home inspectors become home inspectors as they were/are members of the construction trade such as plumbers, electricians, and general contractors. Most inspectors can identify problems but will defer to to a licensed professional for confirmation and/or repair. We identify problems or potential problems for you to consider and address.
Most inspections take 2 to 4 hours depending on the size of the home. You may chose to be at the inspector's side during the entire inspection, or you may chose to conduct a walk through upon the completion of the inspection.
After the physical inspection, the inspector will provide you with a written report with photos that addresses the items of concern or consideration. THE REPORT IS NOT INTENDED TO BE ANY FORM OF WARRANTY, GUARANTEE OR INSURANCE.